Now it is very easy to open your demat and trading account online 24/7 from anywhere. You can link any (selected) Bank account with demat account. After completing IPV (In Person Verification), ICICI Employee will collect the signed POA from your place of choice. Once the account is opened you can purchase and sale shares, also you can invest in IPO, Fixed Deposits, Mutual Fund schemes everything online.
Follow the following procedure:
First of all, from google play store download & install Digilocker app of GOI - Open after installation - Click on Sign In - Create Account - Enter Your Adhar Card Number - You will receive OTP on mobile no linked to Aadhar Card - Enter OTP - Verify
After completing above process click on Income Tax department - enter your pan card - verify - it will be verified.
You can also verify your other documents also and store the same in digilocker, you can use the same at various purpose like for entry in Airport, while travelling by train, bus etc.
Now you can view your Adhar& PAN card in issued documents.
After completing the above procedure click on the following link to open your demat account online: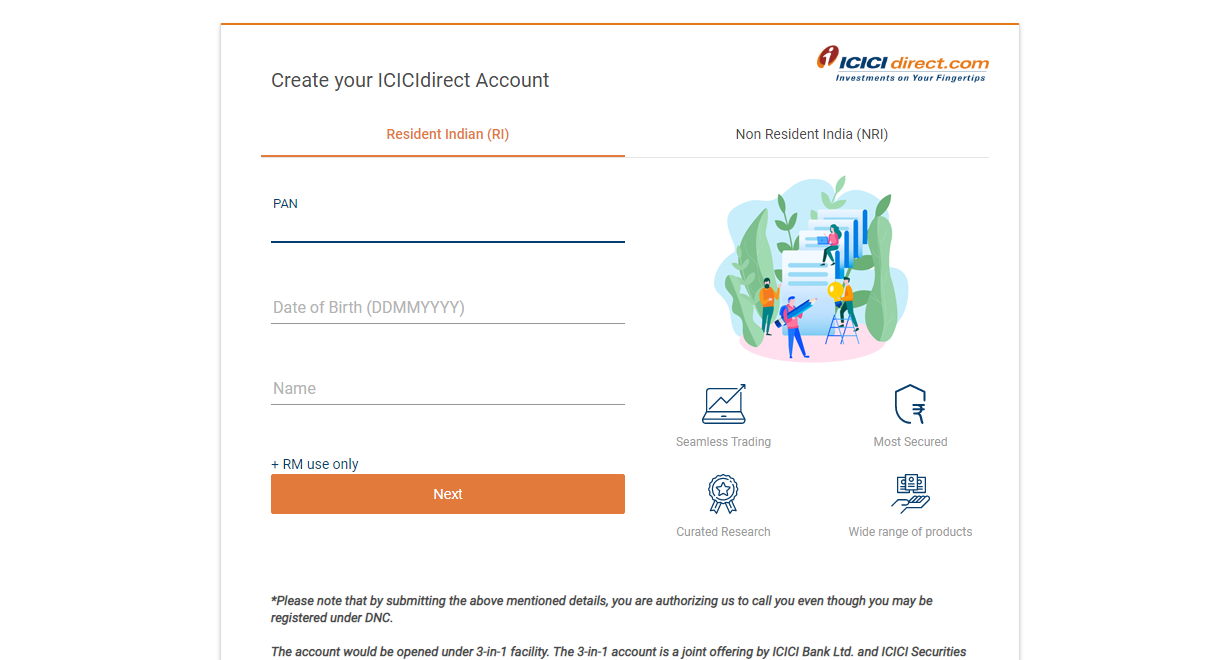 If RM code is not mentioned then, please click on RM Use only and then Enter RM Code as SADS2862
It is very important to map your account under my code so enter it and then follow the following steps
A. Enters basic details:

Full name, PAN no. , Date of Birth, Name, Email ID, Mobile no., Address pin code.
System will do the basic checks like customer not have an existing trading account, PAN is not a SEBI barred PAN.
B. Creation of Trading user ID and password
Customer gets an option to select user id as his email ID or Mobile no.. Customer cannot choose email ID / Mobile no. as user ID if found already updated in any other trading account with ISEC or belongs to any other active customer of ISEC.
OTP will be sent on email / mobile no. chosen by the Customer for setting his/her password online. Each OTP will be valid for 10 minutes.
C. Enter existing ICICI Bank account no.or other bank account details
OTP will be sent on Mobile no. Upon successful validation, bank data will be fetched and displayed in masked form to the customer.
D. Upload document
Customer to upload PAN copy and passport size photograph. (not more than 100 KB each)
E. Enter Demat details and Personal details
Existing ICICI bank demat account can be linked by entering Demat account no. else demat related details to be filled for opening new demat account.
Personal details like Father, Mother, Gender, Marital Status, Financial Details and Fatca etc. is to be filled.
F. IPV using Web-camera.
Web-camera of Desktop/laptop can be used OR Camera of Mobile Phone can be used (Link will be sent to the customer upon choosing this option)
IPV can be carried out only during working hours on a working day.
G. E-signing the documents
OTP based Aadhaar e-signing process will be carried out.